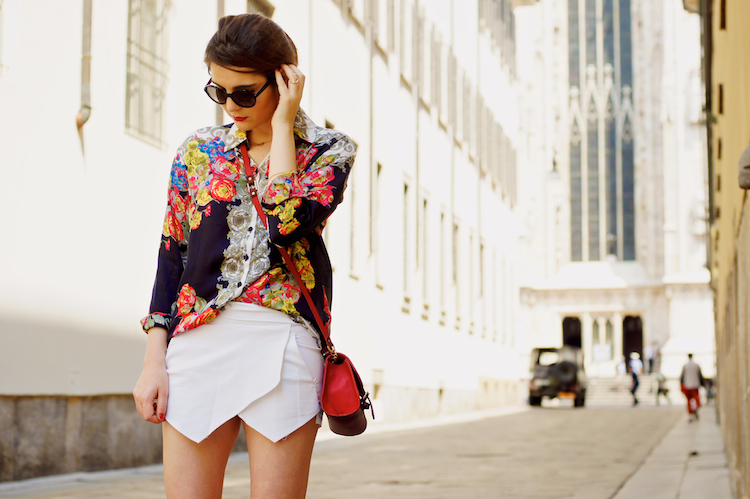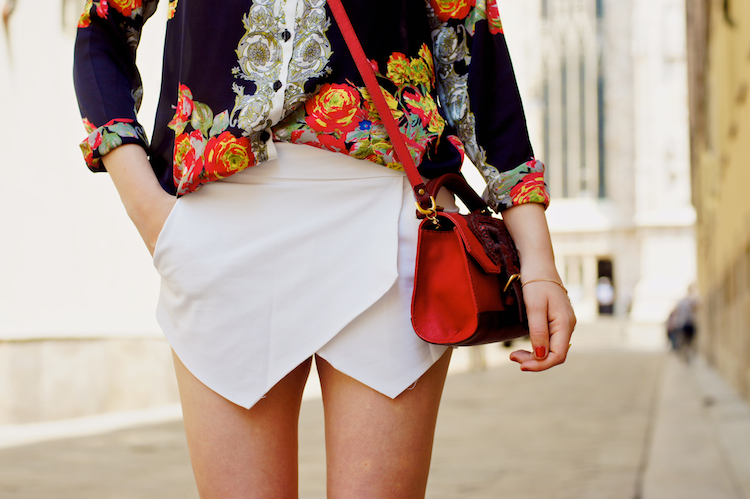 Mixing affordable garments and designers' items is one of my favorite things when it comes to my personal style. The result is always those edgy combinations, which are just beautiful and fun to see, a style that looks well thought, but that at the same time seems to be the most spontaneous. This is the one thing and the everything that's behind today's look; a mix of low-cost items like the 
white origami shorts
 and this 
80's blouse
, which wouldn't look the same without 
Anya Sushko
's mini bag, the refined accessory, the detail that completes the outfit.
"Bags are like diamonds, they are forever" that's what I thought the first time I saw Anya Sushko's creations. It is with Rose Red Gem bag that I want to start showing you her world, made of classics with a twist, made of handcraft and of a lot of attention for every each one of this small big designs. Do you guys like it?
Mixare capi accessibili e capi firmati è una delle cose che preferisco fare quando si parla del mio stile personale. Il risultato di queste combinazioni è uno stile edgy, bello da vedere e divertente, uno stile che sembra essere stato pensato a lungo, ma che allo stesso tempo sembra essere originato dalla spontaneità più totale. Questo è tutto ciò che sta dietro al look di oggi, creato dall'insieme di capi low cost quali i pantaloncini origami e la blusa dal mood anni 80′ e dalla mini bag della designer Anya Sushko, un accessorio ricercato, il dettaglio che completa il look.
"Le borse sono come diamanti, sono per sempre" è ciò che ho pensato la prima volta che ho visto le creazioni di Anya ed è con la borsa Rose Red Gem che voglio iniziare a farvi scoprire il suo mondo, fatto di classici particolari, di fatto a mano e di tante attenzioni per ognuna di queste piccole grandi creazioni.