5 Ways to Keep Your Summer Body
---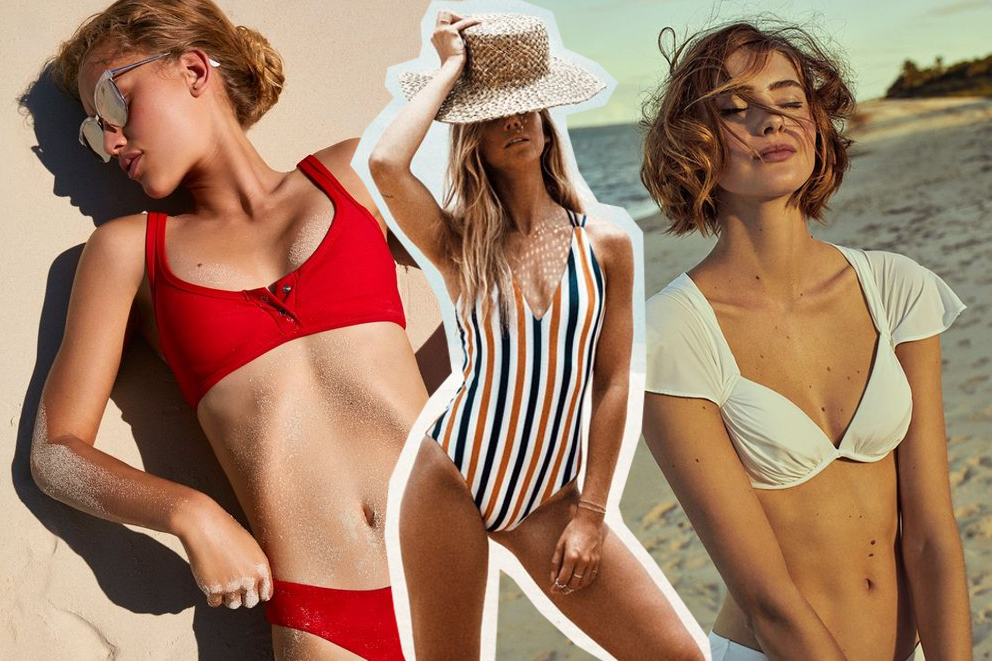 Images via Pinterest.com
5 WAYS TO KEEP YOUR SUMMER BODY I love summer and it is not just the temperatures. During summer I tend to feel full of energies, which also leads me to eat better and do more outdoors activities. In summer I usually lose about 2-3 kilos, but when fall approaches I slowly get them back just in time for the arrival of winter. If just like me you have some problems keeping in shape after summer, here's 5 ways to keep your summer body in the fall. Let's go!
♥ Don't get rid of your summer clothes yet. Keeping my summer clothes in the closet until October has always pushed me to not lose my shape during the beginning of fall. It might sound silly, but it does work to keep your summer body!
♥ Book a weekend outdoor. When I moved into my new place I had to cancel my gym subscription because it was too far from the new neighbourhood. At the moment I am now planning to enter a new gym, as I want to focus more on being outdoor and do things such as hiking, jogging or even just take my dog to the park more often.
♥ Don't jump into carbs. The easiest way to gain those pounds back is to start eating more carbs once fall arrives. I know that with colder temperatures we immediately feel hungrier, but we can prevent to lose our summer body just by replacing unhealthy snacks with fruit, integral crackers or a low fat yoghurt.
♥ Try yoga. If you are not a very sporty type, you might be surprised with yoga. It helps you center yourself again, while making your body stronger and slimmer.
♥ Take care of your body. If in summer I spend at least a hour a day applying face masks, moisturizing my legs, hydrating my hair, once fall arrives I tend to slow down this process and take less care of myself. So how to keep your summer body? Never, ever stop taking care of it even in the smallest things.
Do you have any other tip to share with our community? Drop a comment below to let us know! Xoxo, Irene
5 MANERAS DE CONSERVAR EL SUMMER BODY amo el verano y no solamente por las temperaturas. Durante verano tiendo a sentirme llena de energias lo cual me lleva a comer mejor y hacer mas actividades al aire libre. En verano generalmente pierdo de 2 a 3 kilos, pero cuando el otoño llega los empiezo a subir otra vez justos para la llegada del invierno. Si tu como yo tienes problemas para estar en forma despues del verano, aqui hay 5 formas de conservar tu summer body en el otoño ¡Aquí vamos!
♥ No te deshagas de tu ropa de verano todavía. Conservar la ropa de esa temporada en el closet hasta octubre siempre me ha hecho no perder la forma durante los inicios del otoño. Puede sonar tonto ¡Pero funciona muy bien!
♥ Reserva un fin de semana al aire libre. Cuando me mude al nuevo departamento tuve que cancelar mi suscripción al gym, porque estaba muy lejos de mi nuevo vecindario. Por el momento no tengo planeado entrar a un nuevo gym, pero me quiero enfocar mas en estar en exteriores y hacer actividades como hiking, jogging o incluso sacar a mi perro a pasear mas seguido.
♥ No brinques a los carbohidratos. La forma mas facil de recuperar esos kilos perdidos, es empezar a comer mas carbohidratos cuando el otoño llega. Se que con temperaturas mas frias nos sentimos mucho mas habrientas, pero podemos prevenir el perder nuestro summer body remplazando esos snacks poco saludables con fruta, galletas integrales o yogurts bajos en grasa.
♥  Intenta hacer yoga. Si no eres una persona muy deportista, seguramente el yoga te va a sorprender. Te ayuda a estar centrado, mientras hace tu cuerpo fuerte y delgado.
♥ Cuida tu cuerpo. Si en verano tardo por lo menos una hora al día en aplicarme mascarillas, hidratando mis piernas, mi cabello, cuando el otoño llega empiezo a dejarlo por un lado y tomar menos cuidado. Asi que ¿Como puedes conservar tu cuerpo de verano? Nunca dejes de cuidarte a ti mismo, incluso en las pequeñas cosas.
¿Tienen algun otro tipo que quieren compartir? Dejen un comentario para hacernos saber. Xoxo, Irene
5 WAYS TO KEEP YOUR SUMMER BODY Adoro l'estate e non è solo per il clima. Durante l'estate mi sento piena di energie, mangio meglio e mi viene voglia di praticare sport. In estate perdo di solito 2 o 3 chili, che purtroppo riprendo con l'arrivo dell'autunno giusto in tempo per l'inverno. Se tu come me hai qualche problema a mantenere la forma dopo l'estate, ecco 5 consigli che ti aiuteranno!
♥ Tieni nel tuo guardaroba qualche capo estivo: vedere i miei abiti estivi preferiti ancora nel mio armadio quando arriva l'autunno mi ha sempre motivato a non perdere la forma. Sembra banale, ma funziona!
♥ Organizza un weekend all'aria aperta: da poco ho cambiato casa e ho dovuto cancellare il mio abbonamento in palestra perchè era troppo lontana. In questo momento non sto pensando di iscrivermi ad una nuova palestra, ma voglio passare il mio tempo libero all'aria aperta, facendo hiking, una corsetta o anche solo passeggiare più a lungo con il mio cane.
♥ Lascia perdere i carboidrati: il modo più semplice di riprendere i chili persi durante l'estate è iniziare a abbuffarsi di carboidrati. Con le temperature che si abbassano, ci viene fame, ma possiamo sostituire gli snack poco salutari con un piatto di frutta, cracker integrali o uno yoghurt senza grassi.
♥ Prova a fare yoga: se non sei un tipo sportivo, praticare yoga ti sorprenderà. Ti aiuta a trovare il tuo equilibrio, mentre il tuo corpo diventa forte e lentamente si snellisce.
♥ Prenditi cura del tuo corpo: se durante l'estate passo almeno un'ora applicando creme, maschere e chi più ne ha più ne metta, quando arriva l'autunno tendo a prendermi meno cura del mio corpo. Come rimanere in forma con l'arrivo dell'autunno? Non smettere mai di prenderti cura di te stessa, anche nei più piccoli gesti.
Hai altri consigli o esperienze da condividere con noi? Scrivi un commento sotto a questo post! Xoxo, Irene