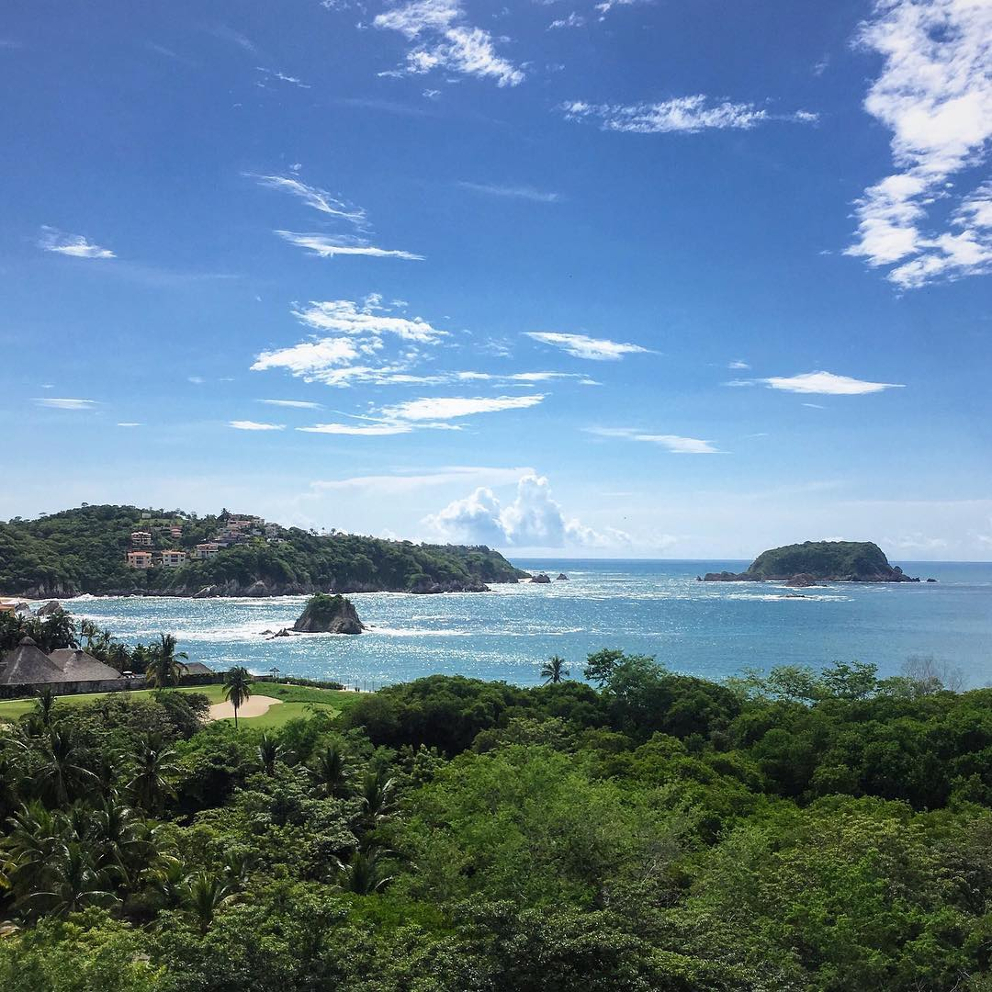 FF

HUATULCO TRAVEL GUIDE I don't even know where to start here! It has been a while since we visited Huatulco this summer. After that a lot of things have happened: a week after we came back from the trip there was a strong earthquake in the region of Oaxaca, Mexico, which is where Huatulco is located. 10 days after, another strong earthquake stroke Mexico City and other states close by, that's why I kept postponing this post. What I want to share with you today is not only some pictures, but a few stories and tips from our trip.
Where to stay in Huatulco? At the end of August we got the chance to stay a week at the resort Quinta Real in Huatulco, one of the most beautiful luxury hotels of the area. I recommend this hotel if you are seeking for a five stars getaway! Camino Real is also a great and cheaper option. For the adventurous ones, I recommend to rent an Airbnb or stay in a cabana in Mazunte or Zipolite, which are nearby.
When to visit Huatulco? If I am posting this Huatulco travel guide right now it is not a case. This is the perfect time of the year to visit the beach here in Mexico! From November to May, it is indeed the best period to go to the beach. Last time we were in Huatulco it was actually rain season, which lasts approximately from July to the beginning of October, but I have to say we really enjoyed it: the temperatures were mild and there were some occasional storms, which allowed us to rest in our room or laying on our hammock's terrace. A totally different experience, right?
What to do in Huatulco? The real charm of Huatulco is its natural reserve, beaches and small bays that remained untouched and are absolutely breathtaking. You can visit the area by boat, on a private tour or in a group. The town of Huatulco is also really nice if you want to have a walk, shop traditional mexican souvenirs or eat fish in a restaurant. If you have the chance, try a Tlayuda, a typical dish from Oaxaca. Other than eating and tanning on the beach, there are plenty of activities you can check with your hotel. One of my favorite experiences in Huatulco was the jungle tour; we literally drove for hours up a mountain to reach some beautiful waterfalls in the middle of the jungle. Swimming there was a unique feeling and I'll never forget it! If you have any question, drop a comment down here. I'll be happy to be your personal Huatulco guide 😀 Xoxo, Irene
GUÍA DE VIAJE DE HUATULCO ¡Ni siquiera sé por dónde empezar! Ha pasado un tiempo desde que visitamos Huatulco en el pasado verano. Después de eso, han sucedido muchas cosas: una semana después de regresar del viaje hubo un fuerte terremoto en la región de Oaxaca, México, que es donde se encuentra Huatulco. 10 días después, otro fuerte terremoto golpeó a la Ciudad de México y otros estados cercanos, por eso seguí posponiendo esta publicación. Lo que quiero compartir con ustedes hoy no son solo algunas fotos, sino algunas historias y consejos de nuestro viaje.
¿Dónde alojarse en Huatulco? A fines de agosto tuvimos la oportunidad de pasar una semana en el resort Quinta Real en Huatulco, uno de los hoteles de lujo más hermosos de la zona. Recomiendo este hotel si estás buscando una escapada de cinco estrellas. Camino Real es también una opción excelente y más barata. Para los más aventureros, recomiendo alquilar un Airbnb o alojarse en una cabaña en Mazunte o Zipolite, que están cerca.
¿Cuándo visitar Huatulco? Si estoy publicando esta guía de viaje de Huatulco en este momento, no es una casualidad. ¡Ahora es el momento perfecto del año para visitar la playa aquí en México! De noviembre a mayo, de hecho, es el mejor período para ir a la playa. La última vez que estuvimos en Huatulco fue en realidad la temporada de lluvias, que dura aproximadamente de julio a principios de octubre, pero debo decir que realmente lo disfrutamos: las temperaturas eran suaves y hubo algunas tormentas ocasionales, lo que nos permitió descansar en nuestra habitación o acostado en la terraza de nuestra hamaca. Una experiencia totalmente diferente, ¿No es así?
¿Qué hacer en Huatulco? El verdadero encanto de Huatulco es su reserva natural, playas y pequeñas bahías que permanecen intactas y son absolutamente impresionantes. Puede visitar la zona en barco, en un recorrido privado o en grupo. El pueblo de Huatulco también es muy agradable si quieres dar un paseo, comprar recuerdos tradicionales mexicanos o comer pescado en un restaurante. Si tienes la oportunidad, prueba una Tlayuda, un plato típico de Oaxaca. Además de comer y broncearse en la playa, hay muchas actividades que puedes consultar en tu hotel. Una de mis experiencias favoritas en Huatulco fue el paseo por la jungla; literalmente conducimos durante horas hasta una montaña para llegar a unas hermosas cascadas en medio de la jungla. ¡Nadar ahí fue una sensación única y que jamás olvidare! Si tienes alguna pregunta, deja un comentario aquí. Estaré feliz de ser tu guía personal en Huatulco: D Xoxo, Irene